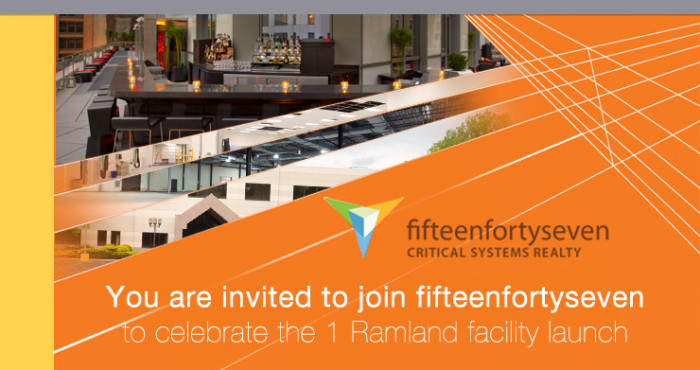 Orangeburg, NY- April 29, 2015 – fifteenfortyseven Critical Systems Realty, a national operator and developer of data centers, today announces details of its ribbon-cutting event to celebrate the opening of its 232k sq ft, 24MW data center at 1 Ramland Road in Orangeburg, New York. Community leaders, business executives, and information technology professionals are invited to attend the event on May 5th at the flagship facility. The event is slated to begin at 1:00 p.m. eastern with the celebratory ribbon cutting ceremony hosted by elected officials from Rockland County. RSVPs should be directed to https://1547realty.com/rsvp/.
The master planned facility sits on 32 acres in Rockland County and will provide custom built turn-key data center capacity for enterprise clients. The facility also features a 60,000 sq. ft. business continuity and disaster recovery center providing a reliable and secure contingency work site to enable companies to mitigate risk.
"The Orangeburg campus is the flagship facility in our portfolio, providing enterprise and Fortune 1000 companies with 2N critical infrastructure in close proximity to NYC and Northern New Jersey," said Patrick Hynes Managing Partner & Co-Founder. "Our partnership with Rockland County allows fifteenfortyseven to bring to market a unique asset, with significant incentives from a power procurement and tax basis, to our tenants wishing to relocate and build their business in this region."
"We are very pleased with fifteenfortyseven's commitment to Rockland County. Having already invested over $40 million in the region, we look forward to helping them grow their business and continue to be a cornerstone of the technology community in the Hudson Valley region," said Al Samuels, President/CEO Rockland Business Association.
Connectivity & Power
The 1 Ramland Rd facility sits 20 miles north of Manhattan and approximately ½ mile from the NJ Border providing all of the key interconnection components to the main carrier hotels in NY and NJ. Connectivity to both 111 8th Ave, 60 Hudson St. as well as the major financial exchange data centers in the NY / NJ region are only microseconds away via dedicated fiber provided by multiple carriers.
Diverse feeds from multiple substations provide 24MW of usable power to the facility. Approvals are currently in place for an additional 50MW substation onsite for the continued growth of the campus.
About fifteenfortyseven Critical Systems Realty
fifteenfortyseven Critical Systems Realty (1547) was formed by executives from a premier national data center construction firm and select executives from both the financial services and data center industries, to identify and develop unique, tenant-driven data center opportunities. The ownership team has over 25 years of combined experience owning, building and operating data centers. Through their extensive industry relationships, 1547 is able to focus on acquisition and development projects where data center users specifically drive demand and are most active. For more information, visit www.1547realty.com.
About Rockland County Business Association
The Rockland Business Association mission is to educate, inform, and provide beneficial services to members and actively represent, promote and support the business community of Rockland County.
RBA is the "voice" of business in Rockland County
Not for profit membership organization, incorporated in 1967
Headquarters are located at:
One Blue Hill Plaza – Lobby Level, P.O. Box 1567, Pearl River, New York 10965
Organization serves the entire Rockland County business community as well as many firms in The Hudson Valley and New Jersey wishing to do business in Rockland.
With more than 800 member businesses, our services and benefits target the needs of various sectors of our community including the manufacturing, financial and service industries.